In a deep tech state of mind…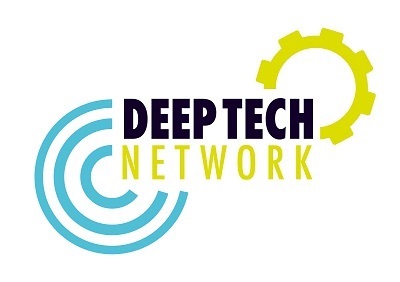 Thursday, 9 May saw a brilliant line-up of speakers at the launch of the Deep Tech Network, organised by Upstream, Imperial College London's Chemistry department and Enterprise Division.  The network's objective is to encourage interaction, understanding and collaboration between the many sectors doing important and innovative work in their individual fields, and also Imperial's academic and research community.
Thank you to all guests – and of course, to our fantastic speakers who hailed from Imperial, FreshCheck, Polymateria, London Borough Of Hammersmith And Fulham, Diversity VC, BBC Science Unit, Sixfold Bioscience, Generating Genius and Novartis.
It was a great turn out and the lecture theatre at the Molecular Sciences Research Hub (MSRH) set the stage for a host of inspiring talks from a wide range of sectors including biotech, pharma, medtech, cleantech and greentech materials as well as industrial biotech and food-tech.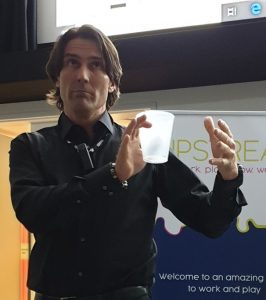 Niall Dunne, CEO of Polymateria spoke about the critical and timely work they are doing to solve the problem of plastic pollution and brought in a sample of one of Polymateria's new biodegradable plastic cups, which are reusable, recyclable and if littered, will biodegrade in 168 days, leaving no microplastic or harm the natural environment in any way. Might Polymateria be the Tesla of plastic? Stay tuned.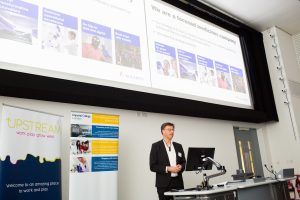 Richard Jarvis of Novartis shared Novartis UK's vision and scientific progress ahead of their move later this year to White City "We look forward to being an anchor member of the largest lifesciences community in London, White City" And we look forward to welcoming you too!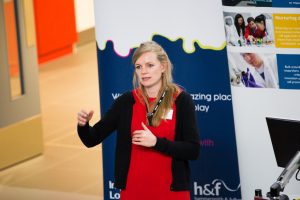 Francesca Warner, CEO of Diversity VC set out what an effective pitch from a startup-up might look like. Diversity VC is a non-profit that seeks to increase diversity of thought in the venture and tech industries.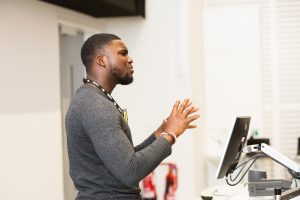 Emmanuel Ayoola of Generating Genius, shared how their initiatives increase diversity in STEM. To date, they have supported over 400 students with STEM-based masterclasses, work experience, university residentials and other activities to expose the STEM community to a diverse talent pool. Contact Emmanuel to find out more.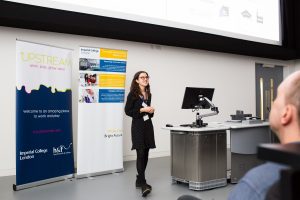 "We can regulate gene expression in disease but how do we get the therapy into the right cell in the body? That's what we're working on, a targeting molecule." – Anna Perdrix Rosell, Sixfold Bioscience
With gene therapy in the news, Anna Perdrix Rosell, Co-founder and Chief Scientific Officer of Sixfold Bioscience was a timely speaker, discussing their solutions to drug delivery challenges.
We're planning another deep tech event for the autumn – sign up to our newsletter to stay in the loop.  Quick thanks to our photographer Alexa Kidd-May.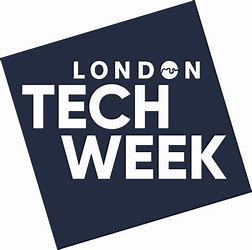 Finally, for London Tech Week our activities include a Talk, Prosecco and Pizza social on 13 June in White City. Sign up here.
FOMO?
To be the first to hear about our events, get immediate access to new podcast episodes, and hear news picked just for you – Join our community!
Join our Mailing List 
Follow us on Twitter 
Connect with us on LinkedIn