e-Coffees and government business support during Covid-19
Updated: 4 May 2020
Team Upstream is blessed to have a job where we get to meet so many fantastically innovative businesses in the science, tech and creative industries. During this difficult time, please let us know if there is anything we can do to help or support you and your business.
We are now offering e-coffees (or e-maginary G&Ts if you prefer): a time for you to speak to us for advice or connections.  We have slots throughout the day, including child-friendly evening ones. Book here [if you can't find one that works, email us (hello@move-upstream.org.uk) and we will work round you]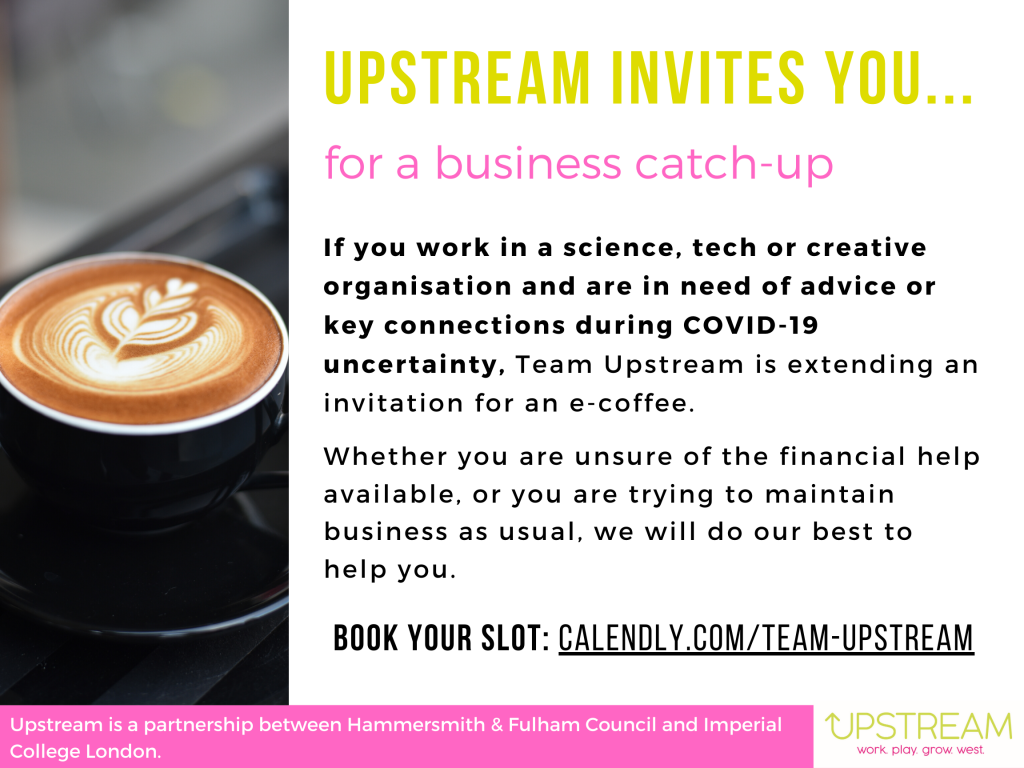 Help for businesses available
Here's a quick round-up of the help that is currently available to businesses from Government and other sources.  Follow us on Twitter @HelloUpstream where we push advice and schemes out very promptly.
Hammersmith and Fulham council FAQs: If you are a business based in Hammersmith and Fulham (H&F) these FAQs are very helpful to ease many concerns you may have.
Important message from H&F regarding the Small Business Grant Fund and the Retail, Hospitality and Leisure Grant Fund: Please ensure that your up to date bank account details and address is provided to our Business Rate department by email to businessrates@lbhf.gov.uk
Hammersmith & Fulham Business Resilience Support – if you're looking for some 1-2-1 business resilience advice, please contact Raj Tandon at raj.tandon@growthhub.london or Simon Rae-Scott on onlyconnect@connectworks.co.uk.
Help schemes from Government: including Future Fund (for some start-ups), Bounce-Back Loans, Self-employment Income Support Scheme, Small Business Grant Fund, Retail, hospitality and Leisure Grant Fund, Business Rates Holidays, Business Interruption Loans and more…
All viable small businesses affected by COVID-19, and not just those unable to secure regular commercial financing, will now be eligible should they need finance to keep operating during this difficult time. The government is also stopping lenders from requesting personal guarantees for loans under £250,000 and making operational changes to speed up lending approvals. The government will continue to cover the first twelve months of interest and fees.
Government Future Fund: convertible loans between £125,000 to £5 million to innovative companies which are facing financing difficulties due to the coronavirus outbreak. Launches 4 May.
Enterprise Nation is working with Crowdfunder so you can fundraise fee-free
Facebook Small Business Grants – money and free ads up to £30k
HMRC COVID-19 hotline for advice is 0800 0159559