London Tech Week 2020: Change makers & cocktails
London Tech Week is a staple in our calendar and like everyone else, we've gone virtual!
This year, amid a pandemic with far-reaching economic, social and health effects, we wanted to reflect on how businesses use technology to have a positive impact on humanity and the environment.  At a time too when our physical horizons have shrunk dramatically, LTW is an opportunity to bring together the tech community that works and lives in Hammersmith & Fulham. And because it's virtual, we welcome anyone who is joining us from around London, the UK or indeed the world.
What is Borough Day?
2020 marks the inaugural 'Borough Day' (Thursday 10 September)  and we are over the moon to announce that H&F is one of the seven boroughs the LTW organisers have selected to showcase!
Why Tech for Impact? 
Upstream's first event for Borough Day is our 'Tech For Impact' showcase from 11:00-12:00.
Whether you are seeking to deploy technology in your business and seeking to learn about these disruptors, or if you're in desperate need of inspiration, you will want to hear from our speakers who hail from the clean-tech, med-tech, cybersecurity, fin-tech and impact investing industries.
RSVP to Tech for Impact
Networking and cocktail hour aren't dead, just rejigged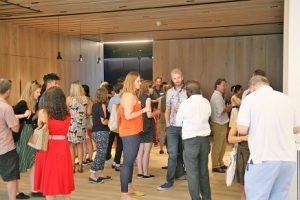 Our second Borough Day event is 'Drink & Discover' fireside chat, cocktail-making and networking, running from 18:00-19:15.  Our fireside guest is tech influencer Russ Shaw, founder of Tech London Advocates who has long promoted London as a destination for tech and lobbied the Government for policies that support the sector's growth. Join us to put your questions to Russ. After this, we turn to the serious business of making a gin cocktail (courtesy of the head bartender at Grade II-listed Kindred) and then networking.  If last year's social is anything to go by [watch here], this will be a great evening to relax and make new connections.
RSVP to Drink & Discover
Unchained Melody – blockchain time!
Partnering with Scale Space, we present Unchained Melody: The rising star of blockchain and web 3.0 (Wednesday 9th September, 11:00-12:30). This event examines the socio-economic impact of blockchain and web 3.0 to date, as well as forecasting new frontiers of emerging decentralised technology. Richard Muirhead of Fabric Ventures will deliver a keynote before we turn to a panel discussion that features investors, an engineer, academic and practitioners.
RSVP to Unchained Melody
We can't wait to see you online!