Meet Greg Jackson, Founder and CEO of Octopus Energy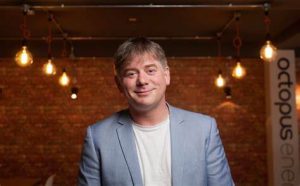 Greg Jackson isn't your average energy company CEO. His first job on the milk round earned him £15 a week and he joined Greenpeace at sixteen. He began his working life as a video games programmer and "always fancied a stint as a motorcycle courier (electric, of course)."
These days, Greg Jackson is the founder behind the only energy company recommended by Which?. Octopus Energy is one of the fastest growing energy firms to ever launch in Britain and is on track to join the Big Six utility providers. Currently, Octopus Energy has more than 750,000 customers with 100 per cent renewable electricity, despite only setting up three years ago.
A serial and successful entrepreneur before Octopus Energy, Greg's experience spans mirror manufacturing, coffee shops and multiple software ventures. Tellingly, before the age of 30, he had owned and/or managed a number of small businesses employing 4-60 people and turning over £400k to £4m. One business C360 that was subsequently acquired, was founded to pioneer a new way of using technology to drive marketing or as Greg puts it "SaaS before it was trendy." Greg is also an investor in several tech start-ups and as an advisor, supports companies and entrepreneurs with fundraising, mergers, acquisitions and strategy. Until recently, he was also a non-executive Director for Zopa, the global pioneer of online peer to peer lending that is now Moneysupernarket's largest non-high street lender and is growing rapidly.
As someone whose LinkedIn profile professes a love of disrupting industries that underserve customers and society, it's no surprise Greg is passionate about enhancing the customer experience. He spends around an hour each day dealing directly with customers to understand that experience better, along with discussing trade-offs such as pricing strategy and infrastructure. The other key difference between Octopus and other utilities companies is technology. Octopus' founding team are from tech rather than energy backgrounds and are determinedly using technology to drive down prices, enable great service and drive towards a renewable future through the smart grid, which is essential to decarbonise affordably.
Greg is also a strong advocate of maintaining a good work-life balance with his "work-life blend", which to him means creating a symbiotic, rather than a compartmentalised relationship between his various work commitments and personal life, so he can remain present in all of them.
As for the future, Octopus is looking to go global, kicking off by launching in Australia this October in partnership with Hanwha Group, a leading solar panel manufacturer, expanding the move to greener energy. "Energy companies are going to end up more like technology companies, like AirBnB, Amazon, Google and Monzo" says Greg. "They will be global."
You can meet Greg Jackson and hear more about where he got where he is today at My Entrepreneurial Journey with Greg Jackson on Thursday, 21 November. 
Spaces are limited for this very special event so make sure you don't miss out by signing up here.
Missed out?
To be the first to hear about our events, get immediate access to new podcast episodes, and hear news picked just for you – Join our community!
Join our Mailing List 
Follow us on Twitter 
Connect with us on LinkedIn