Propelling female founders to success
Social expectations, achieving a perfect work-life balance, self-doubt.  Being a female entrepreneur can be a challenge. That's why Upstream and Imperial College London's White City Incubator hosted a Women Entrepreneurs Workshop earlier this November.  
With sessions focusing on fundraising, leadership and strategic marketing as well as a lovely fireside chat with two successful female entrepreneurs, it's no surprise our audience were delighted if somewhat frazzled after an intense afternoon of workshopping.  
Marla Shapiro (HERmesa, mentor, and angel investor) kicked off with a session on leadership, overcoming the barriers women face and facilitating tasks for self-development. The inspirational session explored owning success, abolishing imposter syndrome and establishing a 'support tribe'. It also encouraged attendees to share their proudest moments with the group.
"Running the legal process and negotiation of a £9m investment round." was Kristen Shannon (Highliner Technology)'s proudest moment. Of the workshop, she said "The room was an incredibly warm, supportive audience. I was the first to get up and speak and I've never presented to so many actively encouraging faces".
Another attendee Yota Trom (Women In Tech Club) said her proudest moment was launching the club. She describes it as "…a community that aims to empower gender diversity and inclusion within the technology industry by welcoming both men and women and focusing not only on work-related issues but also emotional challenges that we all face…. The group has grown to over 800 people within 4 months".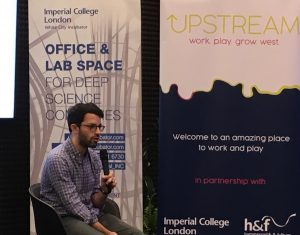 Next up, was Sia Houchangnia (Investment Partner, Seedcamp), giving a jam-packed fundraising 101 for the many women in the room looking for investors. Sia tailored his session by troubleshooting issues, giving advice for seeking angels and how to manage sole and multiple investor expectations. He also shed light on highlighting key achievements prior to seeking investment.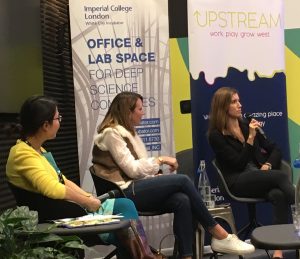 Following this, Claire Vero (Founder, Aurelia Skincare) and Zuzanna Brzosko (CEO and Co-Founder, Sixfold Bioscience) led a dynamic fireside chat based on their own experiences of seeking investors, supporters and customers. Key takeaways included: owning how well you know your field, researching investors to find the right fit, the importance of strategic updates to keep investors in the loop, and the need to ensure you were building the right team.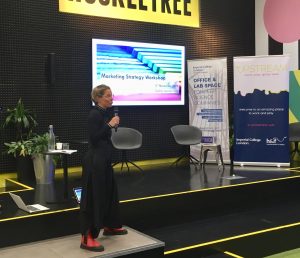 Finally, Sophie Jourlait-Filéni's strategic marketing session rapidly delved into the business plans in the room. Exploring when and where to target an audience, Sophie spoke about business model canvases, customers pains/gains and compiling a value proposition.
And that's a wrap! A huge thank you goes to all of our speakers for their unique and valuable sessions. Big thanks to our friends at Huckletree West for hosting!
FOMO?
To be the first to hear about our events, get immediate access to new podcast episodes, and hear news picked just for you – Join our community!
Join our Mailing List 
Follow us on Twitter 
Connect with us on LinkedIn