Round up of Gigglebyte
Gigglebyte  – 4 days | Over 200 people | 9 Pitches |2 Prizewinners and a lot of laughs.
Back when Upstream launched in January, organising a mini business-meets-comedy-festival seemed quite doable and a long way off. 4 weeks ago, pre-heatwave and mid World Cup hysteria, the Upstream team did have a moment where we thought we had taken too big a byte! Yet, thanks to the support of the businesses and incredible brains across the borough – it's been a pretty special week.
Tuesday:  Launch party and panel – 'Fuelling business growth with humour'
Possibly the most entertaining and informative panel talk we've ever seen. 3 Edinburgh Festival performers, 1 BAFTA Award-winning writer and  This session was crammed full of wisdom, insight and laughs. 3 big take homes from us were…
People who use humour at work (but it's got to be the right kind) are most likely to succeed

Always punch upwards – never make fun of people who have less 'power' than you

Creativity and innovation can come from the most random remark – listen to everyone and explore everything. Keep your childlike curiosity.

For a great review of the event – please take a look at Sophie Devonshire's great article.
Big thanks to: Mitsui Stanhope, the team at White City Place and our Chair – Sophie Devonshire, and our panellists Paul Coleman, Steve Cross, Sarah Archer, Steve North and Jeremy Nicholas.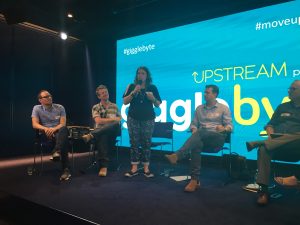 Wednesday: Stand up and Pitch
What a day – 9 female entrepreneurs with a wide range of businesses spent the afternoon with Sarah Archer, to improve their pitching skills. The transformation was incredible, as some founders had not had formal training before. The audience saw 9 great presentations from impressive, innovative businesses. The winners were Ohne and 2080, with a highly commended to DanceWest.
Big thanks to: Huckletree West, Imperial College, White City Place,  Nikita Thakrar from Imperial College, Kate Newhouse from Blenheim Chalcot, Chris Corbishley from FFWD Partners, Peony Li from Founders Factory, Nick Howe from NatWest and Sarah Archer for her fantastic workshop.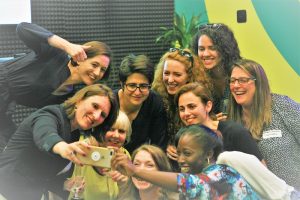 Thursday: Upstream Thursday and Network like a Jedi
More and more people are coming over to Hammersmith & Fulham to work on Upstream Thursdays. Our best quote was 'Why would you work in Shoreditch, when you can stay here?"
WeWork hosted an excellent networking tips event with business coach and super networker Colleen Schell (who has coached business leaders from Silicon Valley through to Bali). She – is launching a really exciting new 4 week success accelerator for entrepreneurs in September at WeWork.. Find out more about it here.
Big thanks to: WeWork Hammersmith Grove & Colleen Schell
Friday: Improv Your Business
And finally, on Friday lunchtime, businesses from across the borough took part in a improv comedy workshop, designed to show how improv could help business success. Hoopla Business delivered the workshop but it was the attendees that created the wacky, funny and creative stories that brought everyone together! Our attendees were able to see how the skills they are had learnt in just one lunchtime could help improve their communication skills, listening skills and confidence.
3 key message were
Listening is key to success!

Create an environment that fuels creative thought

Criticism and rejection can be a positive
Big thanks to: The Bush Theatre and Steve Roe from Hoopla Business.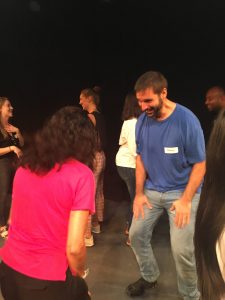 So, it's goodnight from me, and goodnight from Team Upstream (to paraphrase The Two Ronnies).
We look forward to seeing you at one of our next Upstream events.