Upstream Annual Report 2020 (sneak preview)
In a twinkle of an eye, Team Upstream is three. In this time, we have connected, supported and shone a light on the science, tech and creative sectors in both intentional and serendipitous ways. Our work is driven by the belief that local networks which facilitate collaboration and learning, also enhance the momentum at which organisations and places grow.  
Team Upstream's vision remains to turn Hammersmith & Fulham into a destination for ambitious science, tech and creative organisations, with a thriving ecosystem and with White City at the epicentre of an inclusive innovation district. Watch it here.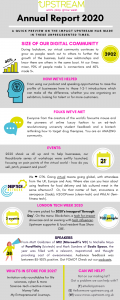 FOMO?
To be the first to hear about our events, get immediate access to new podcast episodes, and hear news picked just for you – Join our community!
Join our Mailing List
Follow us on Twitter
Connect with us on LinkedIn