Blenheim Chalcot
The UK's leading digital venture builder.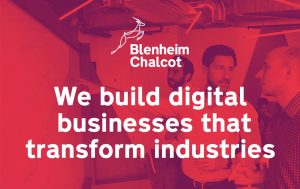 Hammersmith and White City-based Blenheim Chalcot builds tech start-ups that are geared to disrupt and transform sectors. It invests more than just funds, it invests its knowledge and experience, its ideas and its infrastructure. Its ventures are at the forefront of a multitude of industries covering fintech, edtech, media, sport and more.
Blenheim Chalcot's approach to transforming industries has always been the same. It identifies high-growth sectors, typically undergoing some market, technology or regulatory discontinuity, and looks to build scalable platforms that satisfy a customer need. It aims to build profitable companies, with sustainable business models.
BC is a cohesive group and has an incredibly strong culture built around curious, engaging and innovative people. Working alongside entrepreneurs and co-founders, it supports its ventures from start-up to scale to exit, giving them access to the global networks and services they need to grow.
Blenheim Chalcot's portfolio represents sales of over £300m, £500m of assets under management, more than 3,000 employees, and a successful track record of over 40 companies that it hosts in its incubator – a 30,000 sq ft venture hub office in Hammersmith.
For more information – https://www.blenheimchalcot.com/
&nbsp